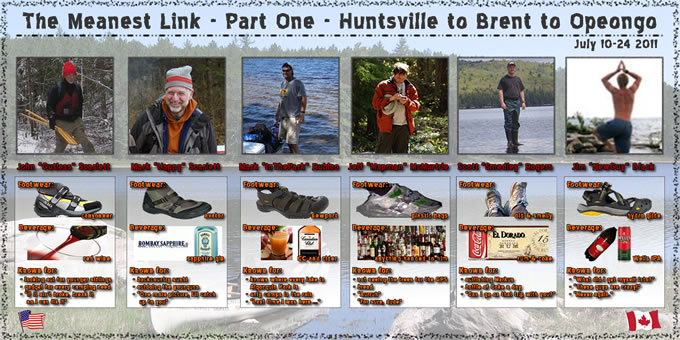 A Meanest Link report!
Scott Rogers is the first member of the "Six On Six" group to get a trip report on-line. And what a report it is! Well-written, full of great pictures and humour, it definitely does not gloss over the challenges of the trip. Make yourself a couple of pots of tea for this one, because with a 15-day trip, it is no surprise that he created a 15-page report:
smedleyco.com/Algonquin-Park/Trip-Logs/Meanest-Link-Part-One
Quick ice update:
And while I'm here, here is a little snow and ice update: rain and mild weather has definitely made a BIG dent in the Algonquin Park snowpack. Having said that, I must report that people are still cross-country skiing and snowshoeing this week in very "spring skiing" conditions. All lakes are frozen right up to the shore, small streams are in flood, and the long-range forecast is looking colder by the end of next. So, shall we see a repeat of the record-breaking 2010 ice-out? I doubt it. Early-ish maybe, but not that early.
Cast your vote for ice-out predictions in Algonquin Park:
Canoe Lake Ice-Out Contest:
http://canoelake.ca/
New! AO's own Lake Opeongo ice-out contest, with absolutely no prizes except bragging rights. It's a really long URL, simply click
here
.